Designed with purpose — The Global Mercy™ arrives in Dakar ready to serve the people of Senegal and The Gambia with surgical expertise and training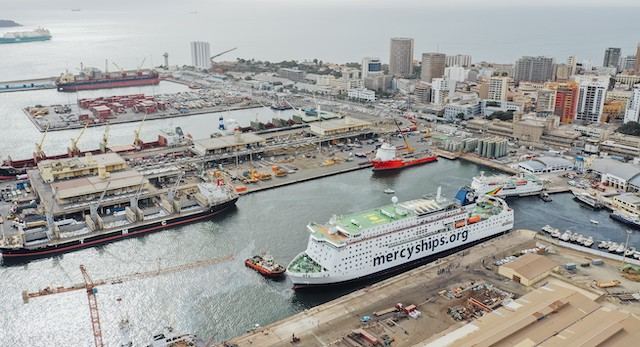 VICTORIA, BC, FEBRUARY 22, 2023 – Darryl Anderson, Executive Director of Mercy Ships Canada, is pleased to announce that the newest Mercy Ship, The Global Mercy, has arrived in Dakar Senegal.
"This year marks the first time that specialized surgeries will take place on this newly built hospital ship", stated Anderson. "This field service will include partnership with ministries of health in both Senegal and The Gamia, serving both countries in the Port of Dakar."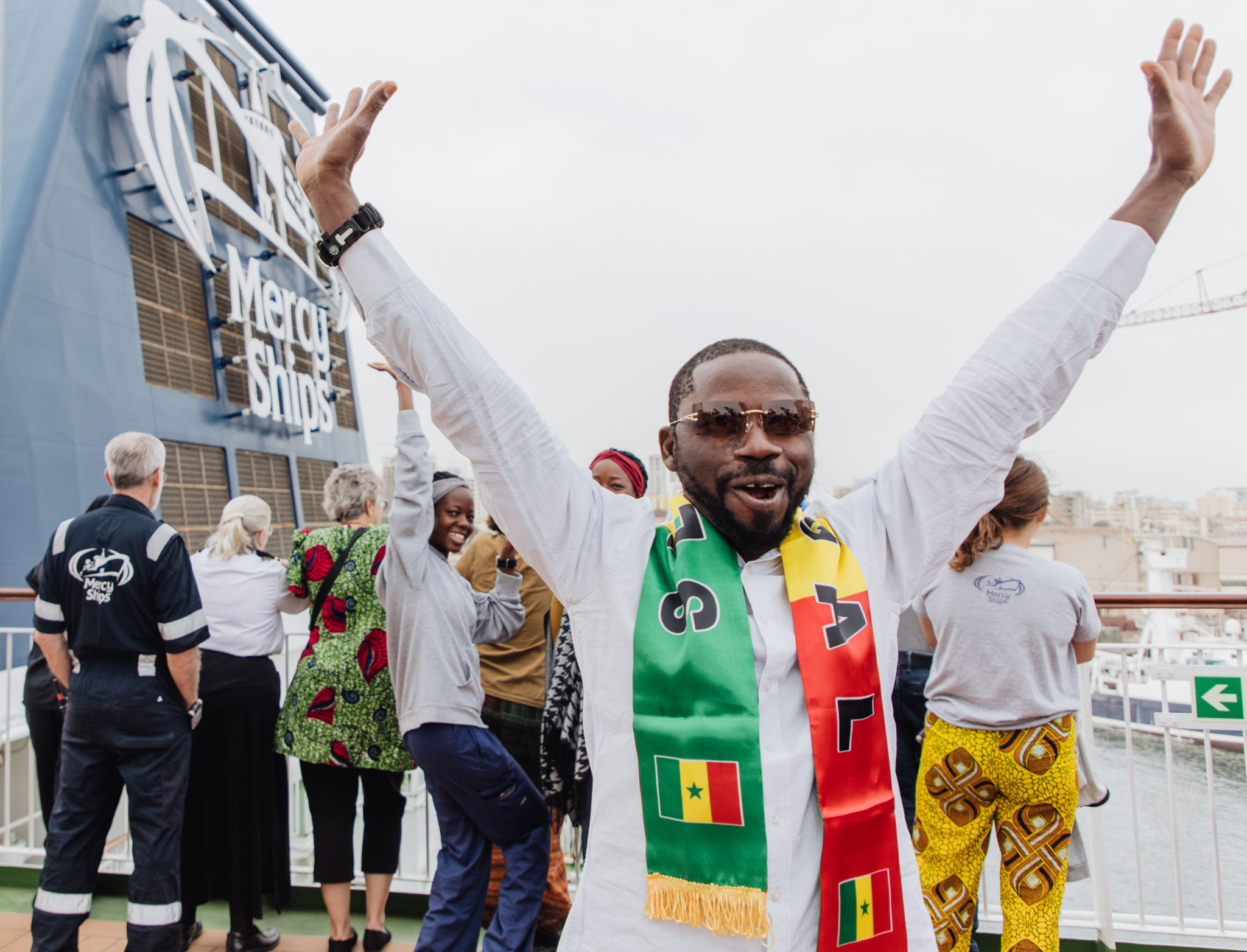 Designed with purpose, the Global Mercy hospital ship is 174 meters long, 28.6 meters wide and has space for 200 patients, six operating rooms, a laboratory, general outpatient clinics, dental, and eye clinics, and training facilities. The hospital decks cover a total area of 7,000 square meters and contain the latest training facilities. The ship can accommodate up to 950 people when docked, including crewmembers and volunteers from all over the world and will serve collaboratively in the future with the Africa Mercy, which has been in operation since 2007 and is currently undergoing refit to return to service in the fall.
It is expected that more than 150,000 lives will be transformed through surgery alone, during the next 50 years of the Global Mercy's lifespan, with each transformation representing a person with a name, a face, a story, a family, and a purpose. In addition, thousands of African medical professionals will receive training and mentoring with the goal of multiplied impact within their own communities.
"The Global Mercy's arrival in Dakar this week is particularly meaningful to our team, as this year, we will be serving the people of both Senegal and The Gambia thanks to partnerships with their ministries of health," explains Gert van de Weerdhof, Mercy Ships CEO. "We anticipate that over the next five months more than 800 maxillo-facial, paediatric orthopaedic, paediatric general, general, and eye surgeries will be carried out on board with up to 25% coming from The Gambia." ​ ​ 
When the Global Mercy visited Senegal in 2022, more than 260 Senegalese healthcare professionals received training on board through a variety of courses addressing topics impacting delivery of safe surgical care, including Surgical Skills, SAFE Anaesthesia, and Nursing Skills. In 2023, Mercy Ships anticipates providing training for more than 600 medical professionals.
"This ceremony marks a new stage in the partnership between the government of Senegal and the NGO Mercy Ships. ​ It is a dynamic and very beneficial collaboration, because the intervention of Mercy Ships represents an essential contribution to strengthening the supply of surgical care and improving the supply of our surgical and social action systems. Indeed, through its many actions, Mercy Ships relieves thousands of individuals, and participates in reducing inequalities of access to health and quality services," stated Dr Marie Khemesse Ngom N'diaye, Minister of Health and Social Action, Senegal.
The Global Mercy was inaugurated in Dakar by H.E. President of Senegal Macky Sall in May 2022, an ardent advocate in the strategic efforts to improve access to safer surgery, not just in his home country, but across all of Africa, as evidenced by his championing of the Dakar Declaration which he takes forward to the rest of the African Union. 
 ​ ​ ​ ###
ABOUT MERCY SHIPS:
Mercy Ships operates hospital ships that deliver free surgeries and other healthcare services to those with little access to safe medical care. An international faith-based organization, Mercy Ships has focused entirely on partnering with African nations for the past three decades. Working with in-country partners, Mercy Ships also provides training to local healthcare professionals and supports the construction of in-country medical infrastructure to leave a lasting impact. ​ 
Each year, more than 3,000 volunteer professionals from over 60 countries serve on board the world's two largest non-governmental hospital ships, the Africa Mercy® and the Global Mercy™. Professionals such as surgeons, dentists, nurses, health trainers, cooks, and engineers dedicate their time and skills to accelerate access to safe surgical, obstetric, and anaesthetic care. Mercy Ships was founded in 1978 and has offices in 16 countries as well as an Africa Service Centre in Dakar, Senegal. For more information, visit mercyships.org and follow @MercyShips on social media.
FOR MORE INFORMATION CONTACT:
Kornelia Eisfeld
Manager Marketing and Donor Relations
Mercy Ships Canada