Mercy Ships Canada announces the appointment of 3 new Board members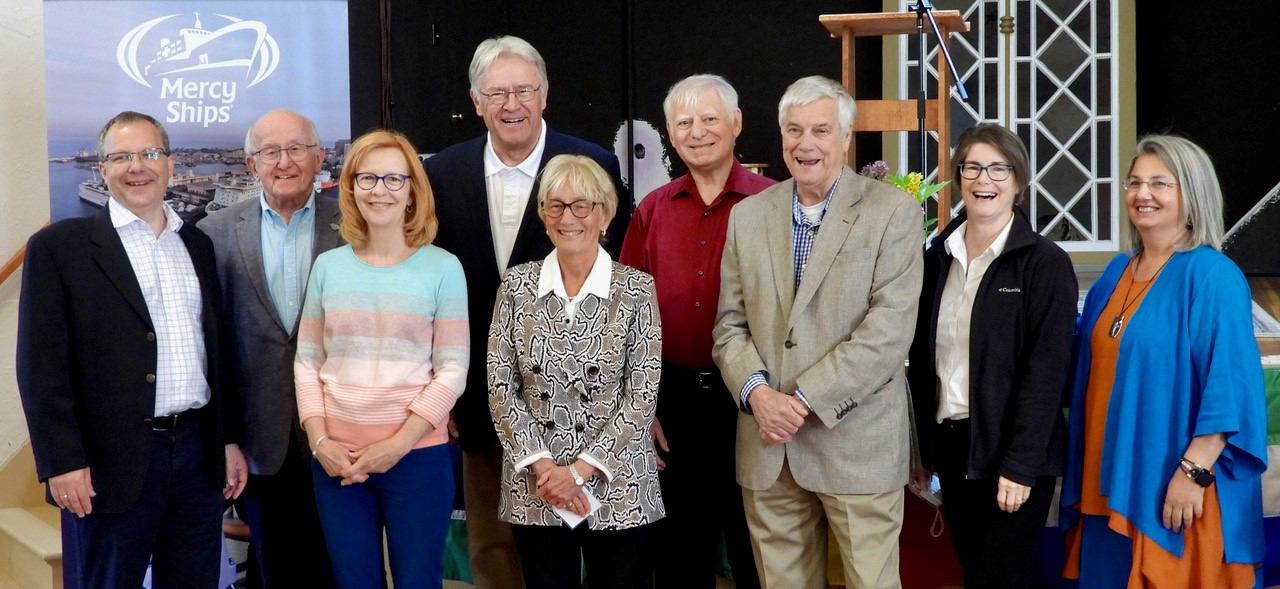 Victoria, B.C., June 28, 2023 - Mercy Ships Canada, a leader in addressing the global surgical crises in developing nations, announced the addition of three new members to its Board of Directors: Linda Slocombe, Mylène Kosseim and Martin Krafft. Each of these new Board members will provide a unique perspective to board leadership roles and a shared commitment to bring hope and healing to people in great need in low-resource settings in Africa.
"The directors and I are proud to welcome these three experienced leaders as new colleagues on the Mercy Ships Canada Board," said Alain-Michel, Mercy Ships Canada's Board Chair. We are excited to channel Linda, Meleyene's and Martin's talent, expertise, and energy into furthering our mission. These individuals will add tremendous value to the organization with their knowledge across the public, private and healthcare sectors."
"It truly takes all of us – board members, donors, volunteer crew members, partners and staff members to make a difference," said Darryl Anderson, Mercy Ships Canada's Executive Director. "As Mercy Ships Canada continues to support the growth of the international NGO Mercy Ships with its fleet of hospital ships, I look forward to the additional expertise these board members will offer our team."
Calgary based Dr. Linda M. Slocombe B.Sc., MDCM, CCFP, ICD.D is currently the Senior Medical Director for Primary Healthcare for Alberta Health Services. As a family physician she has also served on several Boards during her career including the Alberta Medical Association as Board Chair and as Vice-Chair on the Canadian Medical Association Board. Linda stated, When I look at the many medical issues being addressed by the doctors and nurses onboard the Mercy Ships I am especially moved by the work around women's health". 
Ottawa resident Mylène Ksseim BSc (OT), MBA, PhD completed a Post-doctoral Fellowship Health System Performance Evaluation. She has worked in the health and social services field throughout her career, across all sectors (private, public. academic and community) in various capacities ranging from health professional, Executive Director to Board member. Mylène remarked, "Mercy Ships' vision and accomplishments to date are truly inspiring to me and the opportunity to contribute as a member of the Board of Directors of Mercy Ships Canada is a great honour."
Montreal shipping executive Martin Krafft, BA, MSc, LLM is a Master Mariner by training, and a Harvard Business School alumnus. He is Vice President, Fleet Management for Fednav Limited. Martin is an accomplished marine senior executive with a track record of building outstanding, cohesive teams and developing profitable enterprises. He currently serves on the Board of the Maritime Anti-Corruption Network among others. Martin stated, "Mercy Ships' amazing purpose enables me to combine my lifelong passion for seafaring and ships with giving back to society in support of its most vulnerable members - to make a difference in the world."
At the recent annual general meeting of Mercy Ships Canada, the following individuals were selected to provide governance leadership:
Officers:
Board Chair: Alain-Michel Sekula
Vice Chair: Bruce Murray
Treasurer: Lynda Beaudin
Secretary: Linda M. Slocombe
Past-Chair: John Treleaven
Directors:
Lucien Bradet
Martin Krafft, Chair Finance and Compliance Committee
Claire Lewis
Mylène Kosseim, Chair of the Volunteer Crew and Human Resources Committee
###
About Mercy Ships Canada
Mercy Ships Canada is a registered charity operating across Canada. We provide medical services and training programs so those who don't have access to healthcare will get the help and healing they need to live whole and happy lives. Mercy Ships Canada is one of 16 international of the ​ non-governmental organization Mercy Ships.